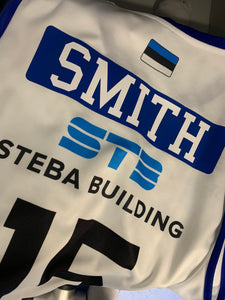 Trust God's Timing, Don't Rush God's Timing
As I dive deeper into my walk of faith daily, I'm constantly reminded to fully trust the timing God has placed over my life. Is it easy? Not at all. Is it possible? Yes. 
Proverbs 3: 5-6 tells us to "Trust in the LORD with ALL your heart and NOT lean on your own understanding. In ALL your ways, acknowledge him and he will direct your paths."
This season (2021-2022) I signed a contract to play professionally again in Estonia. Months prior to that signing, I received many signs and confirmation from God that my opportunity this season would be here in the states, not in Europe. When God's timing seemed to take longer than what I envisioned¹, my patience grew thinner. I packed up my bags and was on another lengthy flight back to Europe.
The situation seemed great on paper: having an opportunity to play for a legendary coach and assist a team who could use another scorer like myself. Fast-forward, the situation did not pan out how I envisioned². In fact, I barely received many opportunities to showcase myself and ended up back home within 2 ½ months. 
As a visionary, the balance between manifestation and full submission to God regarding your goals is very delicate. One that, if we aren't careful can easily blur which will leave you confused on what is from God and what is from the enemy as a distraction. 
Proverbs 3: 5 states to "…NOT lean on your own understanding" for a reason. As humans, we are flawed and our emotions will naturally fluctuate from time to time. That's why it's key to consistently converse with our creator for guidance in every area of our life. 
James 1: 2-4 tells us to "Count it all joy, my brothers, when you meet trials of various kinds, for you know that the testing of your faith produces steadfastness. And let steadfastness have its full effect, that you may be perfect and complete, lacking in nothing."
Even when we make the wrong decisions or choices in life, God will still have our backs and protect us. God's grace and love are truly amazing and serve as a shield against the enemy. If you're in the process of going after that dream or goal, today I challenge you to present it to God and pray for his direction.
-Jordan Smith 
CEO, UFaith Hoops
---